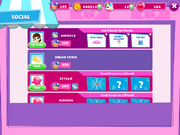 On the bottom of the 'Social Menu' you see a list with players who aren't friends. You can visit their gardens, but you can't see their 'Wish List' or 'Sending Hearts' to them. If you want to hang around, you can invite them to become friend. You get a new list of five players every day.
Sometimes you get the message "Friends code is not found" or "Friends code is incorrect". That means that they are playing on another platform then you. For example, you have an iPad on iOS and the other player a tablet on Android. The game is not cross-platform compatible but all the players appear in the same list.
There are more ways to invite friends, like adding a friend with their 'Friendship code' or inviting Friends from Facebook. If you allow the game to pick up your Location, you can even invite friends who live close by. You can choose from 0,1 km to 5 km or the whole world. According to what you choose your list of possible invites will change.
Once the invitation has been send you cannot follow the invitation, or the new friend appears in your list or the system will give you a second chance to invite the player. When someone invites you the demand will appear in your mailbox or you'll get a pop-up with the invitation. When you accept the invitation the player will appear in your friends list.